She understands the needs of Handshake users, and her first product is an easy to use payment solution on WordPress to accept HNS.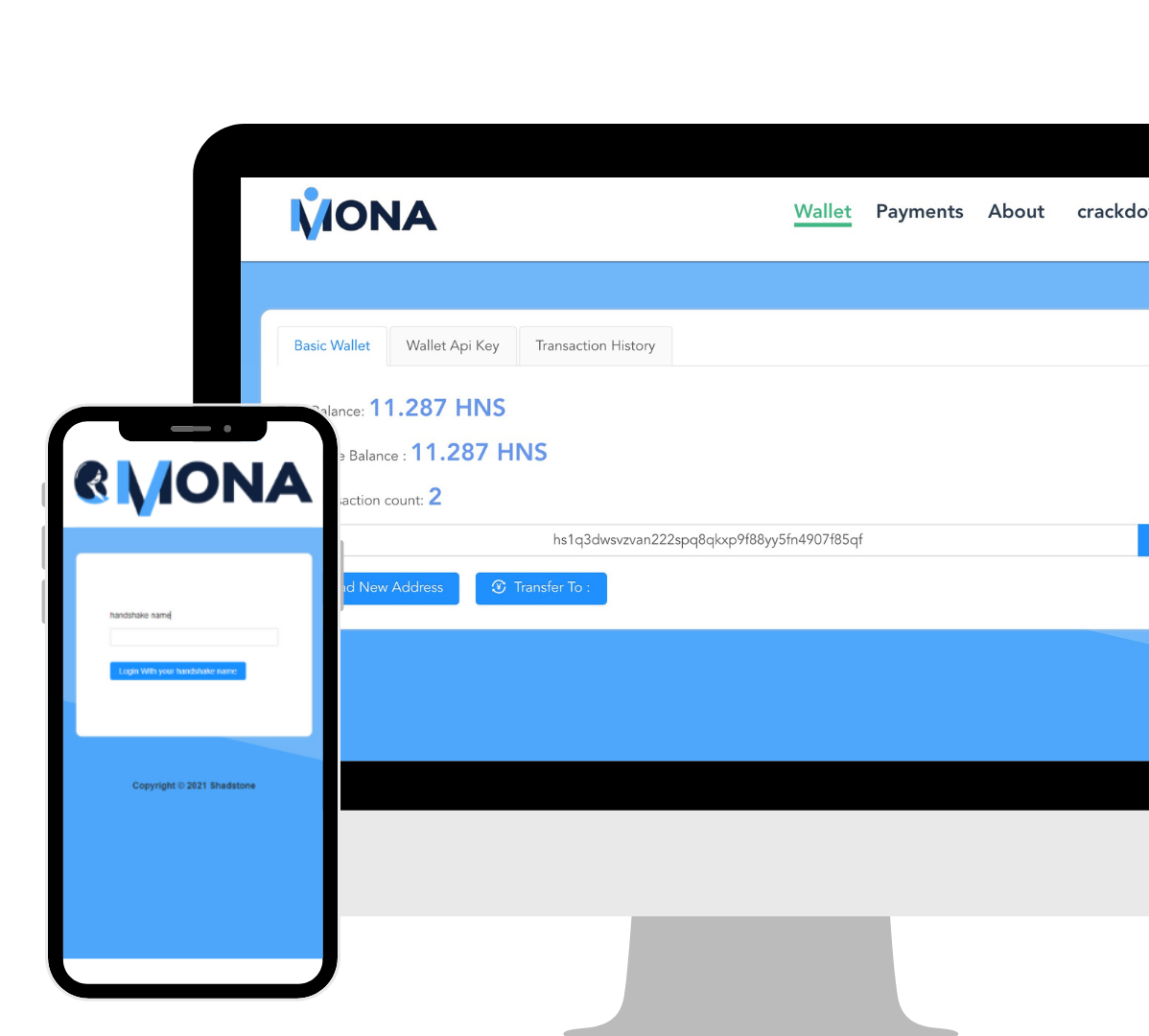 Mona/ Wordpress Plugin for Woocommerce to Accept HNS
Developed by v1xingyue and Skyinclude/ under the parent company Shadstone Limited.
Online Payments Simplified
Handshake users are much more likely to use Handshake as a means of payment for digital goods.
Convenience
Monetizing digital products has never been this easy. Mona gives you access to customers who can pay for your products with their Handshake.
Payment
Whether you wish to charge one-time fees or subscriptions Mona supports whatever works best for your business.
Hassle-free
By simply integrating our HNS wallet with your product shopping cart, you start earning on the go.
Mona was designed to empower futurists like you. 
It is a plugin on WordPress for Woo Commerce shop operators to easily accept HNS as a payment option.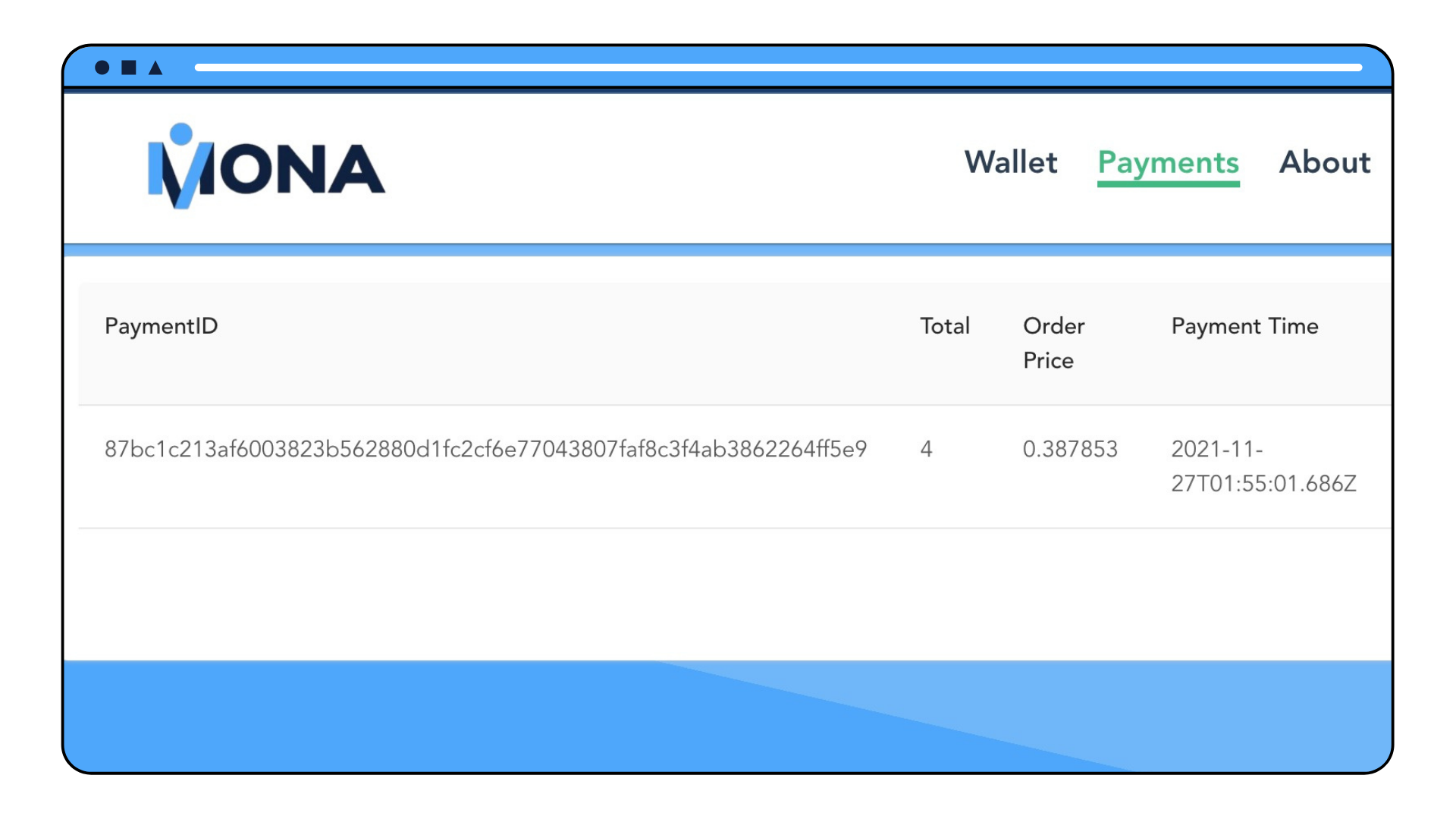 How does it work?
Note: You need to have a WordPress website with WooCommerce in order to use this plugin.
Step 1: Signup and create a wallet on Mona/
Go to app.monapay.com and login or create an account.
You'll signin with your Handshake name (TLD or SLD) and that will be your login name.
You'll get a seed phrase and create a password.
*** Keep  your seed phrase safe, same as any crypto wallet ***
Step 2: Activate and Save Your app secret and API key
You need to go to the API key screen and then SAVE. (If you don't click save, the api key will reset)
Step 3: Install / upload the Mona/ HNS pay plugin to your Wordpress site
Go to your wp-admin of your wordpress site, and plugins and upload the zip we have. (We have not  yet submitted this to the woocommerce plugin directory)
Go to WooCommece Settings - Payment Settings - and configure:
Your login name = your HNS name you signed up for
API Key - the one you SAVED
App secret - the one  you SAVED.
Activate/turn on this HNS pay as a payment method.
Step 4: Turn your shop into an HNS receiving machine!
Use this to accept the USD real time conversion of HNS in your site. For selling physical products, digital products, even can try to sell your HNS TLD or SLD (but the transfer of the name would be manual for now.)
Step 5: Give feedback, donate, contribute
Let us know what  you think - and your feedback is appreciated.
Are you a Handshake fan and want to accept HNS?
---
Cross Platform
With the merchant dashboard, shop admins can access transaction information, customer behaviour data and other cool performance metrics on any device.
Direct Carrier Billing
With our mobile-first commerce solution; you can easily integrate and start monetizing your digital products such as games, e-books, comics, animations, music and so much more.
Security
Users are protected using a secure PIN system; this ensures that only the authorised account holder can make purchases.
Easy integration across all platforms
We created a wallet with a simple process so you can can easily earn Handshake from your customers using WooCommerce on WordPress.